If you're currently a PADI Rescue Diver (or qualifying certification from another dive training agency) and you wish to pursue a professional path to becoming a PADI Instructor, then we've developed the following PADI internships to help you make your dream come true and embark on a professional dive career.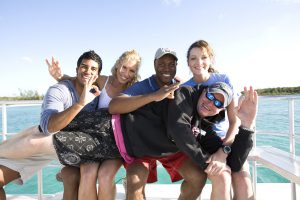 At Liamis Dive Centre we regularly update and are constantly evolving our Divemaster course to be one of the most cutting edge and dynamic programs worldwide.
If you are short of the 40 dives required to start the Divemaster course, WE INCLUDE UNLIMITED DIVING with our program, since you need to have 40 logged dives to start the Divemaster course. So, depending on how many dives you are short, we will schedule a pre-week to the Divemaster program.
Price:
Requirements:
18 years old.
Rescue diver certificate, EFR certificate
Be fit for diving and submit a Medical Statement signed by a physician within the last 12 months.
Includes:
ALL COURSES – Boat Diver Speciality and Divemaster Courses (EFR certification revised, if needed).
All PADI fees
All Instructors fees.
One free of charge specialty (Boat Diver Speciality)
PADI fees for the specialty course.
Discover Scuba Diving leadership.
Great rates on Scuba Equipment.
Operation of an air compressor.
Principals of servicing dive equipment.
Comprehensive Dive Centre business management training.
While on the boat, 1 sandwich and 1 big bottle (1,5 lt) complimentary. Hot drinks as well.
2 Liamis Dive Centre t-shirts and 1 Liamis Dive Centre sweater.
Work experience.
Minimum of 60 dives.
Excludes:
Accommodation
Divemaster crew pack:  270 € (mandatory for any DM course and/or internship)
Divemaster Application fees are not included (cost 110,40 €). They need to be paid directly to PADI by credit card. DSD Leader application fees is not included (cost 44,40€). They need to be paid directly to PADI by credit card.
Diving medical insurance. DAN (Divers Alert Network) is highly recommended.
Equipment:
We can provide rental equipment (except for watches, dive computers, compasses and signalling devices) at no extra charge. We have Technosub, Apexs, Tusa, Bare equipment, in good condition and serviced on a regular basis by our authorised equipment technician. We do recommend that you have your own mask/snorkel, fins (close foot) and wet suit of 5 mm for comfort as well as hygiene reasons (though again, our equipment is always available). For trainees who are going on to complete their PADI Divemaster course and want to work in the dive industry, we highly recommend that you invest in your own set of scuba equipment. As a professional, this is both your uniform and work tools and as a diver, your safety and leisure equipment. Most dive centers and resorts will not hire a professional who does not have their own gear, or at the very least will expect you to invest in a set of equipment as a condition of employment. At Liamis Dive Centre we have a special equipment package that will kit you out from head to toe, with accessories, at an incredible price. This offer is for all candidates who are taking their Divemaster training with us. Please enquire for more information.